Webinar- Contracts for Deed: Common Abuses and Legal Remedies
January 11 @ 1:30 pm

-

3:00 pm

Free
Event Navigation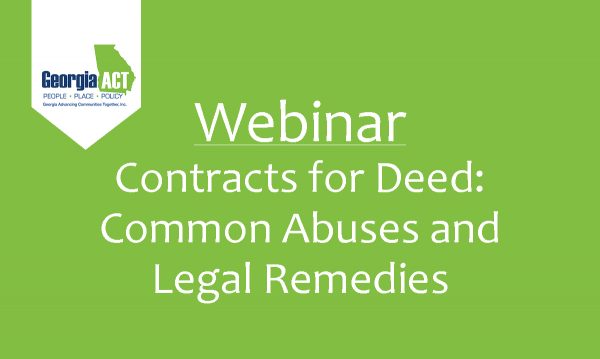 Georgia ACT will host a webinar, Contracts for Deed: Common Abuses and Legal Remedies, on January 11, 2017, 1:30 p.m. to 3 p.m.
Sarah Bolling Mancini, Home Defense Program, Atlanta Legal Aid Society, Inc., Of Counsel, National Consumer Law Center, will conduct the webinar. Land installment contracts, also known as "contracts for deed," have long been a poor replacement for mortgage loans in credit-starved communities. In these transactions, the purchaser is required to take on all the obligations of homeownership, while making monthly payments to the seller, but can be evicted like a tenant for missing a single payment. Now, Wall Street-backed investors are using these transactions to turn a profit off the glut of foreclosed homes around the country. In this webinar, we will discuss possible defenses to these predatory contracts and ways to help consumers who have entered into such a transaction.
Georgia ACT is pleased to offer this webinar free of charge. However, registration is required. To register, please email klittle@georgiaact.org.  Registrants will receive instructions for how to participate in the webinar the first week of January.