Annual Fall Affordable Housing Conference
Event Navigation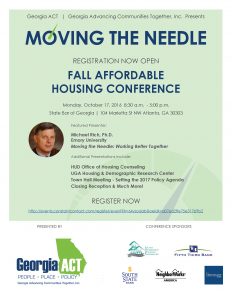 Expand your inventory of best practices. Come together with nonprofit housing organizations from across the state to address topics of mutual interest and share ideas for moving the needle. The conference will have two tracks (one for housing development organizations and one for housing counseling agencies) as well as plenary sessions, including a town hall meeting to discuss state-level policies and resources. Additionally, with dwindling resources and stricter regulations, collaboration seems to be the name of the game. Michael Rich, PhD, from Emory University will be our featured speaker at lunch to talk about "Collaborative Governance and Community Revitalization." Join us in Atlanta. Let's move that needle together.
Thanks to our banking sponsors, Fifth Third, Renansant, and South State, we are able to keep the registration fee the same as for last year.
Georgia ACT members may register for $75 with a second employee (or board member) registering for only $60. Registration includes light breakfast, lunch, and a reception.
Conference Schedule
9 a.m. – Welcome
9:15 a.m. – 10:15 a.m. – Opening Plenary – Sharing Strategies Conversation: Nonprofit managers share their strategies for organizational sustainability in this era of tightening resources.
10:15 a.m. – 11 a.m. – Plenary – Affirmatively Furthering Fair Housing: HUD rolled out the regulations last year, but their impact still remains to be seen. Learn more about these regulations.
11:15 a.m. – 12:15 p.m. – Breakout Session 1: Housing – Gentrification – Is it all bad? Strategies for proactively managing and mitigating gentrification
11:15 a.m. – 12:15 p.m. – Breakout Session 2: Housing Counseling – Foreclosure Intervention: Changes to the HomeSafe program and other current issues for housing counselors

12:15 p.m. – 1:30 p.m. – Plenary – Luncheon with Keynote Speaker Michael Rich, PhD – Collaborative Governance and Community Revitalization: Lessons for Working Better Together. What have we learned from these efforts and how can nonprofit organizations become more effective partners in community problem solving?
1:45 p.m. – 2:45 p.m. – Breakout Session 1: Housing Development – Local Government as Partner: Lessons Learned through Georgia Initiative for Community Housing (GICH)
1:45 p.m. – 2:45 p.m. – Breakout Session 2: Housing Counseling – Federal Agencies and Housing Counselors Working Together: the HUD Office of Housing Counseling provides an overview of HUD's housing counseling program, including updates on visibility, research, housing counselor certification and policy; FHFA and Freddie Mac present their principal reduction plan and explain what next after HARP
3 p.m. – 4 p.m. – Plenary – State Policy Town Hall: policy recap of 2016 and getting ready for the 2017 legislative session; legislative and policy concerns of audience members
4 p.m. – 5 p.m. – Reception
*Schedule subject to change