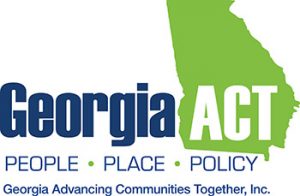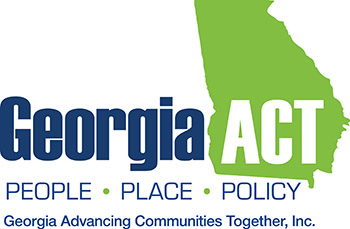 ANNUAL MEMBERSHIP MEETING
According to the bylaws of Georgia Advancing Communities, Together, Inc. (Georgia ACT), the Board of Directors hereby gives notice of the Annual Membership Meeting that will be held on Thursday, March 15, 2018 from 10:00am to 3:00pm at Middle Georgia State University in Macon, Georgia. Board of Directors will be elected at this meeting. If you have any nominations, please submit names and contact information no later than Thursday, March 8, 2018 to: info@georgiaact.org. Registration is FREE!
AGENDA
Business:
Welcome, Call to Order, Introductions
Establishment of a Quorum
Approval of Minutes
State of Georgia ACT
Committee Reports and Election of Board of Directors (Nominating, Membership, Resource Development, 2018 Fall Conference)
LUNCH and Member Organization Reports
Program:
National, State, and Local Policy
Housing Affordability: Beyond the Numbers
Membership Survey
Call to Action
Join Georgia ACT for an action-packed day of networking, policy, and information vital to affordable housing and community development in Georgia at its Annual Membership Meeting! FREE! Limited onsite registration will be available. Please RSVP no later than Thursday, March 8, 2018. Lunch will be provided. Attendees will have an opportunity to obtain a special incentive from Georgia ACT! Don't miss out! Register today!
https://www.eventbrite.com/e/georgia-advancing-communities-together-annual-membership-meeting-2018-tickets-43132729154
Follow Georgia ACT on social media: