State Housing Advocacy Issues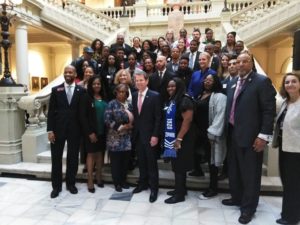 New Law Prohibits Retaliatory Evictions
Georgia landlords are now prohibited from evicting tenants in retaliation for complaining to code enforcement of unsafe and unhealthy rental housing conditions. Georgia ACT was one of the lead agencies in the Georgia Healthy Housing Coalition campaign that successfully advocated for the bill's passage. House Bill 346: Healthy Housing takes effect July 1, 2019. An update of Georgia ACT's State Policy can be found here.
Georgia ACT State Housing Update July 17, 2019 by Elizabeth Appley, Esq.
Click here for the July 17, 2019 State Housing Update!
The Georgia General Assembly ended its 2019 session on April 2, 2019. The Georgia Sine Die Affordable Housing Update can be found by clicking on the link below:
Sine Die Affordable Housing Update April 9 2019
Georgia ACT State Policy Update 2-28-19
Click here KEY AFFORDABLE HOUSING BILLS Feb 28 2019
Georgia ACT 2019 State Policy Agenda
Revised Feb. 11, 2019
Legislative Analyst: Elizabeth J. Appley, Esq. and Bambie Hayes-Brown, President & CEO, Georgia ACT 
Georgia ACT's Policy Priorities. A pdf version of Georgia ACT's 2019 state policy agenda can be downloaded here.
Increase Resources and Opportunities to Provide Housing for All
Healthy Housing protection against eviction for complaints to code enforcement regarding children and vulnerable adults sickened and endangered by unhealthy, unsafe rental housing.
 Address "contract for deed" predatory lending practices that deceive "buyers" into false purchases that confer all the obligations of home ownership and none of the protections.
Support blight amelioration grants for volunteer neighborhood clean-up efforts.
Support $2.5 Million for supportive housing for 700 homeless people with severe and persistent mental illness now cycling through hospitals, emergency rooms, prisons and jails.
Support a Constitutional amendment for dedication of general revenue to specific purposes by general law and without a statewide referendum. (HR 164)
Local Legislative Priorities:
City of Atlanta:

Authorize owners of Community Land Trust homes to receive the same homestead exemptions as other homeowners.
Allow local governments to waive development impact fees for projects that provide affordable housing without requiring replenishment from sources other than the development impact fee fund.

Cordele/Crisp County: Establish a Land Bank Authority.
 Additional Goals:
Empower cities and counties to establish Local Housing Trust Funds with more options for dedicated revenue streams to fund their specific affordable housing needs.
Protect the State Low Income Housing Tax Credit as a significant and continuing source of funding for new affordable multi-family housing statewide.
Maximize Georgia's access to federal funding that supports affordable housing.
Increase resources to the Housing Trust Fund for the Homeless to establish added permanent housing options so that homelessness is temporary and rare.
Enable local communities to use zoning, tax and financial incentives to support preservation and development of housing that meets the needs of families across the economic spectrum.
Allow communities to extend public subsidies to achieve long-term housing affordability.
Strengthen connections between housing, good jobs, quality schools and transit options.
Support community development in rural communities by increasing access to broadband, public transit, disaster relief for homeowners and renters in the wake of Hurricanes Michael and Florence, and other natural disasters.
Establish a Housing Affordability Task Force to prioritize solutions for low cost housing.
Prohibit "Source of Income" Discrimination for renters receiving public housing subsidies.
Georgia ACT's Policy Action Strategies:
Housing Day at the Capitol on February 27, 2019 – Advocacy Training and Engagement from 7:30am to 2:00pm. Register at https://georgiaact.org/advocacy/housingday2019/
Messaging and Advocacy Training Webinar – February 19, 2019 at 12:30 p.m.  Register for the advocacy training here.
Advocacy updates and alerts throughout the legislative session to empower statewide engagement with legislators on affordable housing priorities.
Engage Department of Community Affairs to increase access to affordable housing through:

Enforcement of annual state housing goals and legislative reporting requirements.
Increase State Plan commitments for housing low-income families.

Expand the coalition of organizations working together to increase access to safe, decent, affordable housing for all Georgians.
Expand public education on affordable housing to raise awareness.
Obtain input from organizations, municipalities, practitioners, and advocates throughout the state of Georgia on affordable housing issues to build a 2020 legislative agenda.
Georgia ACT Final 2018 Legislative Report
May 10, 2018
Legislative Analyst: Elizabeth J. Appley, Esq. 
Georgia ACT and Housing Georgia is pleased to present our 2018 Housing Legislation Wrap Up Report outlining the final status of housing related legislation and other key bills we tracked during this year's legislative session. Thanks to everyone who attended and supported Housing Day at the Capitol and to those who responded to our calls to action on specific legislation. Your advocacy and engagement matters. A PDF version of this report is available for download here.
The 2018 Georgia General Assembly session concluded its 40-day session on March 29, 2018. The Governor has 40 days to sign or veto legislation – until May 6, 2018. If he takes no action, the bill becomes law without his signature. Track the bills the Governor signs and vetoes here.
Big picture outcomes from the session include several important changes that affect housing in the areas of taxation and transportation. A number of efforts to advance affordable housing moved forward but failed to pass in the end. However, efforts that would have hampered affordable housing opportunities were also defeated. The General Assembly adopted major changes to the state tax laws (HB 918) in the wake of federal tax reform, reflected in the FY 2019 Budget (HB 684). The Budget received a late boost from Governor Deal in allocating an additional $167 Million for K-12 education to close the shortfall in education funding that has persisted for more than 16 years. The Legislature also passed an important expansion for transit funding for the metro Atlanta region (HB 930). Numerous bills passed addressing local property tax issues.
Thank you for your engagement and advocacy this session. Your voice is the key to our advocacy successes!
Click to view highlights about the bills that address affordable housing priorities.
Summary
The Hardest Hit Fund (HHF), administered by the U.S. Department of the Treasury, provides "targeted aid to families in states facing unemployment rates at or above the national average or home price declines greater than 20 percent", making funding available "for state Housing Finance Agencies to develop locally-tailored foreclosure prevention solutions." Somewhat similar to the Troubled Asset Relief Program (TARP), which provided funds to bail out banks and other financial institutions, HHF can be considered as part of the "people's bailout" designed to assist American families in danger of losing their homes through foreclosure due to the financial crisis and the accompanying housing meltdown. Georgia received $339.255.819 through HHF and is making those fund through the HomeSafe Program administered by the Department of Community Affairs. HomeSafe Georgia "offers mortgage assistance programs to eligible homeowners" to "help homeowners avoid foreclosure and remain in their home" through three distinct programs.
Georgia ACT analyzed the implementation of HomeSafe to determine the reasons for the large amount of uncommitted funds available years after the program start. Based on this analysis, Georgia ACT developed some recommendations to help ensure that the state benefits from the federal government's investment of Hardest Hit Funds received. To read Georgia ACT's analysis and recommendations, click here.
(from a press release issued by Congressman John Lewis of Georgia's Fifth District): In 2016, Rep. John Lewis asked the Special Inspector General for the Troubled Asset Relief Program (SIGTARP) to audit the state-run Hardest Hit Fund (HHF), TARP's primary federal foreclosure mitigation program in Atlanta…SIGTARP's audit discovered statewide mismanagement by Georgia's Department of Community Affairs (DCA), which is the state's housing finance agency and Treasury's HHF contractor. "In response to the Great Recession, Congress provided desperately needed resources to help families stay in their homes. The responsibility then fell to State agencies to ensure that homeowners received the assistance Congress authorized. SIGTARP's report shows that the HomeSafe Georgia program was shamefully managed. Unfortunately, despite repeated warnings, too many Georgian communities never received the assistance they expected and deserved. Time and time again, the agency failed to reach Georgia homeowners, who only sought the help promised to them." To read the audit report, click here.
Summary
The Georgia Department of Community Affairs has release for review the State's draft "Georgia Analysis of Impediments to Fair Housing Choice." DCA will use this document as part of its planning and activities related to housing and community development. The Analysis of Impediments serves as the substantive, logical basis for fair housing planning; provides essential and detailed information to policy makers, administrative staff, housing providers, lenders, and fair housing advocates; and assists in building public support for fair housing efforts. It is a review of impediments or barriers that affect the rights of fair housing choice. It covers public and private policies, practices, and procedures affecting housing choice. For more information, visit DCA's Analysis of Impediments to Fair Housing Choice web page.
Our Stance
Georgia ACT collaborated with three other organizations to review and comment on the draft Analysis of Impediments. We concluded that the draft left out some obvious impediments to fair housing and that the actions proposed to remedy the identified impediments were a good first step, but more is needed to make a significant impact. To read a summary of the comments submitted, please click here.
Low Income Housing Tax Credits
Summary
The Low Income Housing Tax Credit (LIHTC) program provides tax incentives to developers who reserve a portion of residential units for affordable housing.
The Issue
The program is administered under different terms and conditions in each state.
Our Stance
To demonstrate the critical need for an expansion of the LIHTC, Senator Maria Cantwell (D-Wa) is asking for stories from anyone who has ever dealt with homelessness or struggled to find affordable housing. The campaign to expand the Housing Credit includes changes in order to strengthen the program and would increase the allocation authority by 50%. To support this campaign and share your story, click here. To learn more about LIHTC: visit http://www.nlihc.org/
The Tax Credit Assistance Program
Summary
The Tax Credit Assistance Program (TCAP) provided grant funding for capital investment in Low Income Housing Tax Credit (LIHTC) projects via a formula-based allocation to state housing credit allocation agencies. The housing credit agencies in each state were required to distribute these funds competitively in accordance with their qualified allocation plan. Projects awarded low income housing tax credits in fiscal years 2007, 2008, or 2009 were eligible for funding, but housing credit agencies had to give priority to projects expected to be completed by February 2012. The Georgia Department of Community Affairs (DCA) has TCAP program income available to operate and develop affordable housing in the State of Georgia and sought input on the use of these funds. All proposed uses of TCAP funding must be in keeping with DCA's guiding priorities and additional preferences (see program Statement of Values). Additionally, the funds must ensure housing affordability for a minimum period of 15 years for households at or below 80 percent of area median income (AMI). DCA offered a 30-day comment period on the priorities, preferences, and considerations for uses of TCAP program income from 02/19/2015 – 3/23/2015.
Our Stance
Following are two of the comments that Georgia ACT submitted:
1. Homeownership vs. Rental
Low Income Housing Tax Credits and other programs that support the development of rental housing far outweigh State funding available for affordable homeownership and available subsidy is typically for buyers, not to support production of housing units. With the continued presence of foreclosed properties, we recommend reserving 30% of TCAP funding exclusively for acquisition and rehab of foreclosed properties, including construction of new units for sale or lease purchase in foreclosed subdivisions.
2. Nurture concerned, interested, committed parties (Supporting and strengthening partners in the housing delivery system)
DCA must intentionally aim to nurture, support and strengthen the most important partners in the housing delivery system committed to: – The development of affordable housing -Community and social impact (holistic and placed-based ) and -Those working to meet the greatest need and serve those least likely to apply .
Georgia-based, mission-driven, not-for profit developers meet these requirements. As such, Georgia ACT strongly encourages a set-aside, or enhanced scoring, for projects that have not-for-profit developers or majority not-for- profit development partners. To support this intentional focus, DCA's formulation of the application process and requirements must ensure that burdensome amounts of upfront fees and capital and levels of capacity/experience do not restrict the ability of not-for-profits to apply for funding and compete against for-profit applicants.
Summary
Many housing program benchmark against what the federal government calls Fair Market Rents (FMRs): gross rent estimates that include the shelter rent plus the cost of all utilities, except telephones. In Georgia, the FMR for a two-bedroom apartment is $817. In order to afford this level of rent and utilities – without paying more than 30% of income on housing – a household must earn $2,723 per month or $32,674 annually. Assuming a 40-hour work week, 52 weeks per year, this level of income translates into an hourly Housing Wage $15.71 per hour. Georgia's minimum wage is of $7.25 is less than half of that and the average renter wage is $14.04. Rent affordable to a household at 30% of Georgia's area median income: $459 Rent affordable to Supplemental Security Income recipients: $220 Rent affordable with full-time job paying minimum wage: $377 In 1988, the General Assembly created the State Housing Trust Fund for the Homeless. In addition to benefiting the homeless, the enabling legislation allows a focus on "residential housing projects" for all low income persons (not just homeless) and includes support for building affordable rental housing as well as support for home ownership.
Our Stance
Georgia ACT would like the State to increase funding for the Trust Fund by an additional $10 million. To meet the housing needs of Georgians, we also encourage consideration of the following:
1. Incentives for developers and cooperating local governments to promote development and preservation of affordable housing, including incentives and enforcement mechanisms for implementation of housing elements in local government comprehensive plans submitted to the Department of Community Affairs
2. Housing programs or innovations suitable for modeling or adapting to Georgia, especially those that meet the specific needs of rural Georgia and demonstrate how to coordinate affordable housing and economic development, so as to improve the local tax base.
3. Strategies for addressing barriers to development of affordable housing, such as inclusionary zoning and lack of infrastructure (particularly in rural areas).
4. The General Assembly could facilitate donation of improved or unimproved land to nonprofit corporations by enacting legislation to allow public entities to grant title of land (including that legally seized for non-payment of liens, surplus property, condemned real property, and real property taken by eminent domain, but unused) to qualifying organizations for development of affordable housing.
Finding the Facts and Making the Case on‐Line
How to be an effective advocate without leaving home!
Who represents me?   
Go to the Open States website (www.openstates.org) or free iPhone app and enter your home address to identify your state Senator and State Representative and link to their information and  how to contact them.     
What is happening at the Georgia General Assembly?  
The website of the Georgia General Assembly (www.legis.ga.gov) has tremendous resources: 
Locate your legislator and get their picture and bio;

Contact info for all legislators (office, phone, fax and email);

Get a Bill (searching either by Bill number or subject matter) and see different versions of  the Bill, who the sponsors are, what committees it was assigned to, the votes that were  cast on the House and Senate floor, and the current status of the legislation;

Study Committee Reports; 

Review Committee schedules, agendas and hearing notices;

Watch House and Senate floor debates and some Committee meetings (live or archived);

Budget documents and analyses;

Links to other state government websites;

Current Georgia Code.   
Many Ways to Take Effective Action:
Contact legislators before, during and after the legislative session.

Speak to your colleagues, family and friends to engage them on the issue.

Come to the capitol when Lobby Day opportunities arise and bring others.

Work with Caucuses i.e., Rural Caucus, Working Families Caucus, Women's Caucus, etc.

Identify/build relationships with legislative leadership, Governor, Lt. Gov., etc.

Connect and collaborate with groups that share your priorities to build support.

Get the word out on TV, radio and social media by cultivating reporters, writing op‐eds  and letters to the editor, and using U‐Tube, blogs, tweets and Facebook.

Become a grassroots activist by engaging with a campaign to elect people who support  your priorities, registering people to vote, helping with "get out the vote" efforts, and  becoming involved with other community activists.